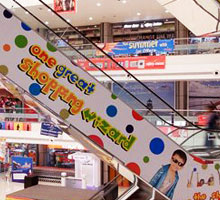 Open Hours:
Daily, from 10:00 AM till 11:00 PM
Little World Mall
Little World Malls, a subsidiary of the Siddhi Group, was set up with an objective to not just create physical structures but also to influence lifestyles Inaugurated on 24th July, 2008.Committed to setting benchmarks in retailing in India, Little World Malls provides an excellent walk through experience for customers.
Little World in Navi Mumbai's is mall, hosting a variety of the most exciting brands. Fashion, food, film and fun await you in a state-of-the-art shopping environment.It's a world created to meet your dreams. It's the final destination for your desires. Presenting the brand new landmark of lifestyle,leisure and luxury called Little World. Strategically located in the heart of Navi Mumbai at Kharghar near Kharghar Junction and just 50 meters from Expressway. Offering a universe of fun, frolic and fiesta, Little World is a destination of unlimited dimensions of excitement. Come;explore!
Little World is largest mall has it all. It is the new destination for everything that's hip and happening be it; Fashion, Lifestyle, entertainment and events. Little World is a prime destination for shopping, Entertainment and Events. Little World provides exclusive discounts and fashions for everyone.